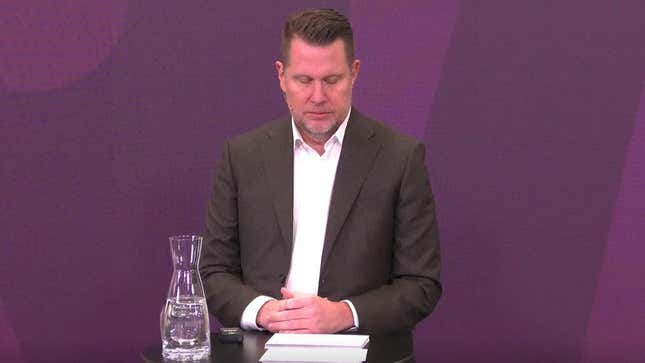 This is Lars Wingefors, the CEO of Embracer, a Swedish holding company that owns multiple video game publishers, dozens of studios, and employs over 16,500 people. Or at least it used to. Embracer has been laying off hundreds, canceling projects, and closing studios as it reckons with deals that fell through, ambitious bets on big games, and an unprecedented acquisition spree that saw the investor group hoover up everything it could, from the studio behind Deus Ex to the license for The Lord of the Rings. One company to rule them all. That seemed to be the extent of the strategy.
Saudi Arabia Buys $1 Billion Stake In Publisher That Owns Many Of Your Favorite Games
Now the check has come due and things are continuing to unravel. Wingefors confirmed in Embracer's latest earnings report that the company has laid off 900 people, or about five percent of its workforce, since the beginning of the year. 15 projects, most of them unannounced, were also seemingly canceled. And more closures and layoffs are still coming. "For me, personally, it is crucial that the [restructuring program] is carried out with compassion, respect, and integrity," Wingefors wrote in a press release.
At the same time, however, the CEO said his focus also remains on "maximizing shareholder value." He celebrated the successful release of Dead Island 2 and Remnant II, the latter of which just crossed the two million sales mark. But other games underperformed. Perhaps nothing sums up the burden of expectations for projects to outperform more than the launch of Payday 3. Developer Starbreeze Studios said interest in, and sales for, the multiplayer heist game "exceeded expectations" despite matchmaking issues at launch, while Embracer, which published it, now believes it will perform "below management expectations" for the year.
It's been a rough year in general for the video game industry, as publishers and studios cut back staff and budgets amid rising interest rates and missed forecasts, but the carnage has been especially pronounced across Embracer's random portfolio. There have been layoffs at Crystal Dynamics, Beamdog, Zen Studios, Digic Pictures, and more. Volition, the 30-year-old studio behind last year's Saints Row reboot, was completely shuttered. Neverwinter MMO maker Cryptic Studios also cut staff. And VGC recently reported that rebooted TimeSplitters studio Free Radical Design is also at risk of closing again. As a result, the company increased net sales by $36 million, but it's still $1.5 billion in debt. Lord of the Rings-themed Magic: The Gathering cards appear to be a big driver of the recent profits.
It's hard to know if things would have gone any better for these studios if they had remained outside of Embracer's control, but also hard to believe that Embracer is not responsible for the speed and breadth of the current bloodbath. In hindsight, the company seemed to have hitched its short-term sustainability to a $2 billion loan that fell through at the last second. Axios later reported the deal was with the gaming wing of Saudi Arabia's public investment fund. Wingefors appeared crestfallen at the time. But if your company's solvency relies on a handout from crown prince Mohammed bin Salman, you might have screwed up.
So far at least, no one appears to have owned up to this major miscalculation, or all the ones that came before it. Or maybe throwing everything at the wall just to see what sticks was always the strategy, snapping up tons of teams, talent, and beloved video game franchises just to see which ones started generating money and then junking the rest. "The key priority of the restructuring program is to improve efficiency and cash generation, transforming Embracer into a leaner, stronger, more focused and cash self-sufficient company," Wingefors wrote today. Embracer thanks you for your service. Now get the fuck out.
While the CEO of this wobbling gaming empire remains, there has been at least one meaningful departure from the company's c-suite. Former chief operating officer Egil Strunke left Embracer earlier this month. He sounds like he enjoyed himself. In a LinkedIn post, he describes the Embracer he joined in 2019 as a "sizzling, acquisitional hotbed where new entrepreneurs and exciting studios were added quarter by quarter." It was an "amazing experience and adventure."
"Although the last year has been rough, in line with general market changes and industry consolidation, I am positive that Embracer will come out stronger and with a long, bright future ahead of them," Strunke continued. "These memories alongside relationships made with all the incredible persons I've had the opportunity to meet through my work, is something I'll always cherish." I wonder if everyone else who is no longer a part of Embracer agrees.