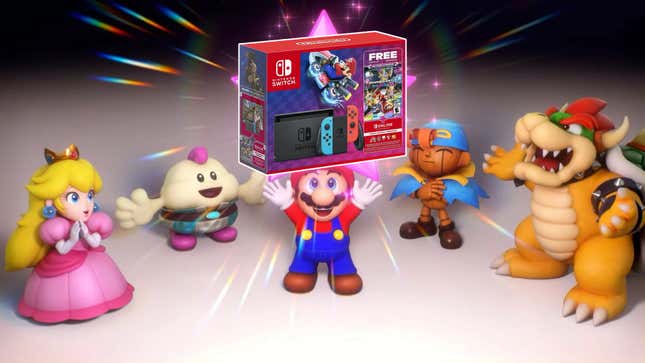 Nintendo has never dropped the price of its six-year old Switch, and it's not about to start now. But the company is still bundling Mario Kart 8 free with its consoles for Black Friday 2023, and discounting a bunch of other great games. The Switch 2 might be just around the corner, but there's never been a better time to take advantage of one of the best game libraries ever assembled.
What You Should Know About Mario Strikers' Big Free Update
Nintendo previewed its Black Friday deals way back in September, but with the sales going live we now know the full suite of Switch deals, including cheap Super Mario Party Joy-Con bundles and $20 off games like Xenoblade Chronicles 3 and Super Mario Odyssey. And of course the Nintendo Switch Game Voucher program is ongoing, so you can still pick up any two new games (like The Legend of Zelda: Tears of the Kingdom and Super Mario Bros. Wonder) for just $100 (normally $120).
Mario Kart 8 Deluxe Switch Bundle
Mario Kart 8 Deluxe remains one of the bestselling Switch games ever for a reason: It's awesome. And it only got better with the dozens of new courses and a handful of new drivers added over the past couple years in new DLC. The $300 Black Friday bundle comes with the console, the game, and three months of Switch Online membership, which unlocks all of the new content.
Super Smash Bros. Ultimate Switch OLED Model Bundle
If you want the OLED model Switch, which is $50 more than the base model, Nintendo is throwing in Super Smash Bros. Ultimate and three months of Switch Online for free. You also get the special-edition gray Joy-Con controllers with the white Smash logo on them. Unfortunately, Ultimate's year of DLC fighter releases is not included with the Switch Online subscription.
Animal Crossing: New Horizons Switch Lite Bundle
Animal Crossing: New Horizons hit just as the pandemic took hold in 2020, offering people a cozy, humane escape while in quarantine. Nintendo's third and final Switch bundle for the season includes the colorful life sim for free with pastel blue and pink versions of the Switch Lite for $200. While it can't be docked and doesn't have detachable Joy-Cons, the Lite model remains a great way to access six years' worth of games without fully committing ahead of Nintendo's likely Switch successor arriving next year.
Nintendo Switch Joy-Con
Nintendo isn't offering discounts on its Joy-Con controllers, but you can grab them for cheaper as part of a Super Mario Party bundle. That includes the 2019 game and a pair of controllers for just $100, whereas the Joy-Con are normally $80 just by themselves (it's a racket, I know). If you're looking to get into four-player co-op, this would not be a bad way to go. Once you tire up Super Mario Party, you can also dig into the Mario Party 64 games through the Switch Online Expansion Pack.
Switch Games
Nintendo games, especially first-party releases, notoriously never go on sale. That's changed a bit during the Switch years, and this Black Friday is no different. While some of the recent biggest releases remain full price, the back catalog has discounts of over 50 percent off through December 2. Here are some of the highlights:
The Legend of Zelda: Breath of the Wild - $40 (33 percent off)
The Legend of Zelda: Link's Awakening - $40 (33 percent off)
Super Mario Odyssey - $40 (33 percent off)
Luigi's Mansion 3 - $40 (33 percent off)
Metroid Dread - $40 (33 percent off)
Kirby and the Forgotten Land - $42 (30 percent off)
Xenoblade Chronicles 3 - $40 (33 percent off)
Fire Emblem Engage - $42 (30 percent off)
Donkey Kong Country: Tropical Freeze - $30 (50 percent off)
Fire Emblem Warriors: Three Hopes - $15 (66 percent off)
Hyrule Warriors: Age of Calamity - $40 (33 percent off)
Mario + Rabbids: Sparks of Hope Cosmic Edition - $15 (66 percent off)
Mega Man Battle Network Legacy Collection - $40 (33 percent off)
Metal Gear Solid: Master Collection Vol. 1 - $40 (33 percent off)
Sonic Superstars - $35 (33 percent off)
Expand Your Nintendo Switch Storage
I love how small game file sizes are on Switch, but that just means I have dozens of games downloaded at any given time and am still running out of room. The 1TB Nintendo-branded microSD cards are currently $30 off (normally $130) at Walmart. Or you can go smaller. The 128GB MicroSD card is just $15 (normally $35) at Amazon. That's more than enough to fit half of the games on the discounted list above.
---
The Switch might not have some of 2023's biggest blockbusters, but handheld mode is still my favorite way to catch-up on all the smallest stuff I've missed in recent years. Dead Cells is a perfect example. You can currently get the base game and all of its DLC, including this year's Castlevania expansion, for just $35. Even if the hit action-platformer roguelike isn't your cup of tea, there's plenty of other games on sale right now to occupy you by the fireplace during the next few dark, winter months.