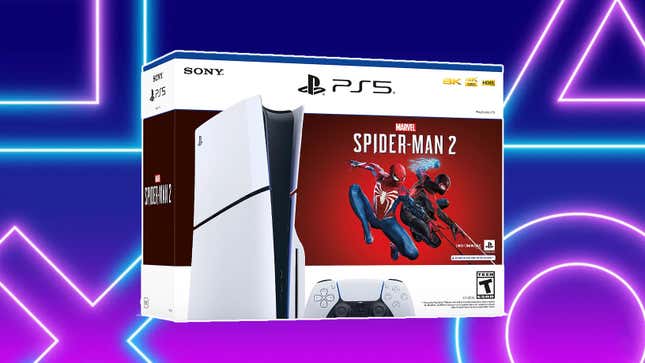 It's that time of year again. Black Friday deals are starting to drop across all of the big gaming platforms and, of course, PlayStation has some pretty good discounts this year—including a PS5 bundle that gets you Marvel's Spider-Man 2 for free. There's a few other bundles to be had, discounts on big games, and even deals on accessories like the DualSense controller.
Hollow Knight: Silksong's New Gameplay Trailer Is Living Rent-Free In Our Brains
The Black Friday sales on the PlayStation Store and PlayStation Direct are live from November 17 through November 27. Here are the biggest deals so far:
Spider-Man 2 PS5 bundle
The bundle comes with the disc-version of the standard PS5 and is normally $560. Right now it's only $500, essentially giving you a $70 copy of Spider-Man 2 for free.
Call of Duty: Modern Warfare III PS5 bundle
The Modern Warfare III PS5 "slim" bundle just came out and is only $500, which means you still get a dozen remastered Modern Warfare 2 multiplayer maps for free.
DualSense controllers
The PS5 DualSense controllers are all currently $50, which is $25 off the list price. So it's a good time if you've been eyeing Volcanic Red or one of the other color variants, or just need a back-up for couch co-op. The LeBron James Limited Edition is even cheaper at just $40 (normally $80) if you can stand how ugly it is.
PlayStation Plus
If you're not currently subscribed to Sony's revamped and pricier PS Plus program you can get 30 percent off 12-month sign-ups for Essential (normally $80), Extra (normally $135), or Premium (normally $160). If you're already paying you can get 25 percent off, but only if you upgrade from a lower tier to a higher one.
PS5 games
A ton of great games came out this year, especially if you're into PlayStation exclusives. And many of them finally have huge discounts heading into the holiday, which makes it the perfect time to build up your backlog ahead of the long, cold winter. Here are some of the current standouts over on the PlayStation Store:
Diablo IV - $42 (40 percent off)
Resident Evil 4 remake - $39.60 (34 percent off)
Street Fighter VI - $39.60 (34 percent off)
God of War Ragnarok - $39.90 (43 percent off)
Final Fantasy XVI - $42 (40 percent off)
Final Fantasy VII Remake Intergrade - $35 (42 percent off)
Star Wars Jedi: Survivor - $42 (40 percent off)
Dead Space remake - $35 (50 percent off)
Remnant II - $35 (30 percent off)
The Witcher 3: Wild Hunt - $12 (70 percent off)
Red Dead Redemption 2 - $20 (67 percent off)
Grand Theft Auto V - $15 (50 percent off)
Dredge - $18.75 (25 percent off)
Lies of P - $48 (20 percent off)
Assassin's Creed Mirage - $40 (20 percent off)
EA Sports FC (i.e. FIFA 24) - $35 (50 percent off)
NBA 2K24 - $35 (50 percent off)
Mortal Kombat - $49 (30 percent off)
Hogwarts Legacy - $42 (40 percent off)
Expand your PS5 storage
And if you buy any of these games you'll immediately realize how massive they all are to download. Fortunately, a bunch of PS5 expandable storage SSDs are all on sale at the moment. The WD Black SN850X 1TB SSD with a heatsink is currently just $85 (50 percent off) on Amazon. The 2TB Internal SSD from Crucial is also a good pick and just $95 (normally $145) over at Best Buy.
---
All-in-all the PlayStation deals are pretty good this year, no doubt in part because Sony is trying to sell a record-breaking 25 million PS5s, despite a recent slowdown in the console's momentum. If you really wanted to go wild you could grab the Spider-Man 2 bundle, an extra controller, a second SSD, and Street Fighter VI for just $665. Not bad!