Admittedly, my expectations for the PlayStation Portal weren't exactly sky-high.
I wanted to be able to play Yakuza and Spider-Man 2 in bed without spending $500+ on a Steam Deck, and my chonky phone doesn't fit the Backbone or other snap-on game controller accessories. I already have a Switch and a Switch Lite, so I'm not looking for a dedicated portable—or a whole new platform to build a library for. Sony's odd-looking handheld closely replicates the PS5 experience and left my hands feeling limber, even after longer play sessions. So it ticks a lot of those boxes.
It's worth reiterating that Portal is a wireless PS5 accessory, not a portable PS5. That limits its appeal, though that's offset somewhat by the (relatively) low cost of entry at $199. You can't use it to stream games from the cloud (like the Logitech G-Cloud), and you can't download games to it like a Nintendo Switch or a Steam Deck. You already need to have a PS5 console to use it. Using Portal also won't "free up" the console so one person can play on TV while the other plays on handheld.

I've already expounded at some length about the look and feel of the Portal—looks weird, feels nice. Once you take this chonky boy out of the box, setup is easy enough—in theory. You connect it to your home wi-fi network, turn on your PS5 and toggle some settings, and you're good to go. In practice, you'll probably have to download a software update for the handheld right out of the box, log into your PS account, and—if you're like me—update your PS5 too. Unless you're a daily PS5 user, plan for a good 30 minutes of loading-bar hijinks once you pull this thing out of the box.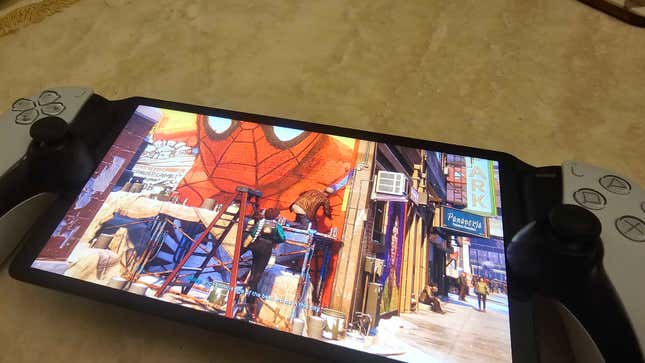 Over several days of testing, I only experienced a single connection hitch, while playing Like A Dragon: Ishin. Without warning, I was roaming around Kyoto looking for a fight, when I got a message that my connection to my PS5 was lost. I hit the X button to reconnect as prompted, and after a momentary delay I was able to resume without having to exit the game or reload my save.
Switching between games works just as it does on the PS5. Visually demanding games like Spider-Man 2, The Last of Us Part I, and Final Fantasy XVI take a moment to launch, but once they do, they run lickety-split with no discernable lag. (That said, I have gigabit internet and live in a one-bedroom apartment—your mileage may vary.) It's not a top-spec OLED, but the 8-inch, 1080p LED screen is crisp and vibrant—a noticeable step up from my slightly crusty mid-range TV from several Black Fridays ago. The blacks are velvety and fine textures pop.
That said, the screen has a distinct gloss to it that picks up fingerprints pretty easily, and you'll notice quite a bit of glare in brighter lighting conditions. And some PS5 games lend themselves better to a handheld experience than others. Spider-Man 2 has clear enough text and menus, but FFXVI is all but impossible to read at times. If you think this text was small on a 50" TV, it's inscrutable on an 8-inch screen.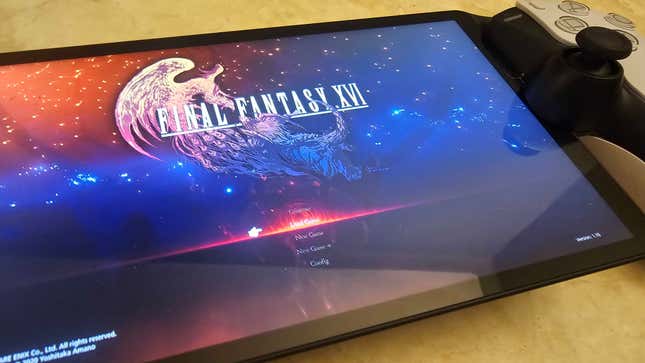 Portal's handles are slightly shorter than those of the standard DualSense, which takes a little bit of getting used to. I did need to adjust my grip now and then, especially when I was playing while lying down—or doing pretty much anything involving the touchscreen, which is Portal's equivalent for the DualSense's trapezoidal touchpad. Touch the screen near one of the joysticks and a transparent rectangle will appear on either side.
I spent far too long trying to figure out how to access the main menu in Spider-Man 2—a quick double tap—and even after having done so, it's still exasperatingly easy to end up in photo mode accidentally. At present, Portal's touchpad functionality is clumsy and poorly explained, but it's not a total dealbreaker. There's not a dedicated menu for Portal under the PS5's accessory settings yet, but hopefully that's not too far off.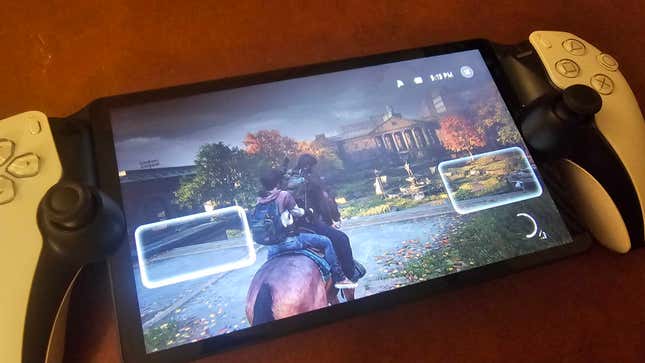 Another hitch: Portal can't access your PS5 unless you're logged in. If you use your PS5 often, it probably won't be a problem. But if you're not using your main console every day, there's a non-zero chance you'll have to briefly turn on your PS5 and interrupt whatever your family or roommates are doing. It makes sense why Portal works this way, but it's a potential pain point nonetheless. Ideally, that's just a settings tweak or a software update away, too.

While there are tweaks I'd like to see in the weeks and months ahead, I've been quite impressed with the time I've spent with Portal so far. I've played for about six hours on a single charge and still have a bar of battery life left to go. It's a solid sub-$200 gift option for the gamer in your life who's always hogging the TV when you're trying to watch Vanderpump Rules or Monday Night Football.
PlayStation Portal launches November 15.