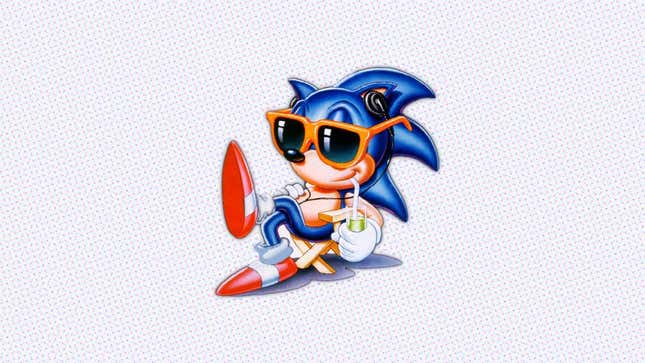 Despite ongoing rumors and even leaked data from potential suitors, Sega isn't currently looking for a buyer, according to the company's COO. In fact, Sega is expanding and looking at possible acquisitions itself. Even so, Sega is "honored" that so many other companies want to acquire the Sonic the Hedgehog publisher.

This Mini Sega Arcade Cabinet Packed With Retro Games Would Make A Great Gift
You might remember that earlier this year, during the Microsoft v. FTC court battle over the tech giant's desire to buy Activision, we learned a lot about the inner workings of all the companies involved. Emails revealed during the trial showed that in 2021 Xbox boss Phil Spencer asked Microsoft CEO Satya Nadella and Microsoft CFO Amy Hood for approval to begin talking to Sega about possibly acquiring the company to help "accelerate" the growth of Game Pass. But according to Sega, that deal—and other offers to acquire the company—aren't likely to happen.

In a November 15 interview with CNBC, Sega Chief Operating Officer Shuji Utsumi politely but firmly dismissed the speculation that Xbox (or anybody else) was going to buy Sega.

"Many companies are interested. We feel honored," Utsumi said, "We have attractive IPs and potentials. Companies owned by the owner. A strong owner. I don't think that kind of transaction is going to happen."

Sega has plans to grow its brands
Utsumi also told CNBC that the publisher was still "looking for opportunities for growth" and pointed to its recent acquisition of Rovio, the company behind Angry Birds, as an example of Sega's plans to expand. In April, Sega spent $775 million to gobble up Rovio in a deal that is still one of the weirdest moments of 2023.

Elsewhere in the interview, Utsumi explained that Sega wanted to bring more of its popular games and characters to more places after the theatrical success of the live-action Sonic films.

"As I say, we are trying to be in a lot of different categories, different areas like Roblox, movies," Utsumi said. "All these IPs can be somewhere else other than games soon." Me, I can't wait for a Persona X Sonic Netflix film.

While Sega might be expanding and looking to grow its brands, it's also dealing with some bad news and expensive hiccups. In October, it reportedly canceled Hyenas, an upcoming space-based extraction shooter that was suggested to be the most expensive game Sega had ever made. It also was recently accused of threatening layoffs in retaliation over unionization efforts.
  .